The Bunker with Kiernan Laveaux, Russell E.L. Butler, JADALAREIGN, Analog Soul, Love Letters, Bryan Kasenic at Good Room
December 1, 2023
---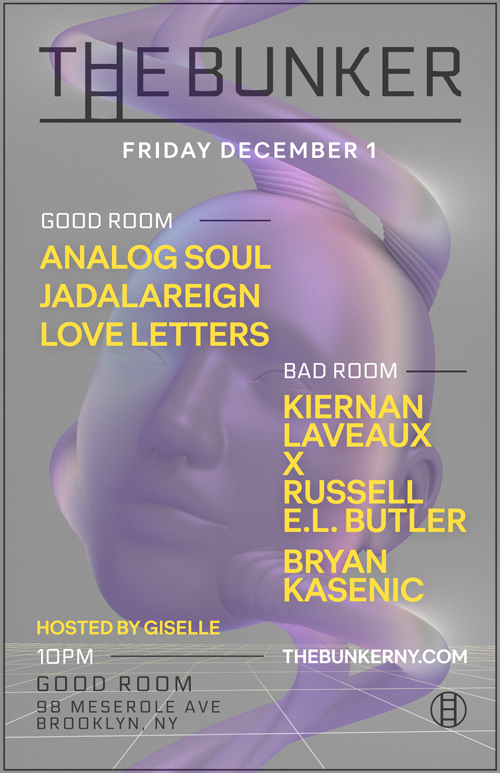 ---
$20-40
On December 1, The Bunker is excited to be back at Good Room with a lineup of shining US based talent.
In the GOOD ROOM we have an all NYC lineup: JADALAREIGN is an invaluable member of the Brooklyn community not only through her storied DJ sets for Nowadays, The Lot Radio, and NTS, but also through supporting marginalized artists with her Community Skillshare and Insession programs. ANALOG SOUL have been at it for well over 20 years in the deep underground of the NYC scene, and have reached higher recognition in recent years, with big gigs at Panorama Bar, Honcho Campout, Glastonbury Festival and many other spots around the world. It's always an honor to have them join us at The Bunker. Rounding out the lineup will be LOVE LETTERS, who's EPs on The Bunker New York, Mister Saturday Night, and Allergy Season are often played out by your favorite DJs, with countless unreleased tracks played exclusively by Mike Servito and himself. His live set at The Bunker back in April at his EP release party wowed everyone and was a highlight of our Spring.
In the BAD ROOM we're getting ready for some wild freeform vibes with some of our favorite selectors who aren't afraid to take risks and play from their hearts. T4TLUVNRG's KIERNAN LAVEAUX and RUSSELL E.L. BUTLER play a rare extended b2b set that is sure to surprise and delight. Opening the room will be The Bunker founder and resident BRYAN KASENIC.
We're bringing in a safer spaces team to hold space for the community and keep the vibes on point. The Bunker dance floor is for all of us. We don't tolerate the kinds of behaviors that tell already marginalized people that they aren't welcome or that their bodies aren't safe. Consensual touch, respect for personal space, and being gentle with others' mental states are all ways that members of The Bunker express that collective care and safety are necessary for a good party! We don't permit leering, commenting about others' bodies, following people, taking photos or videos without consent, or other types of disrespectful or dehumanizing behavior – and being intoxicated enough that you can't engage with these agreements is no excuse for harmful behavior and won't be tolerated at our events.
We suggest familiarizing yourself with our values and code of conduct before attending the party: