The Bunker with Batu x Patrick Russell, GiGi FM, Haruka, Craig Gonzalez, Sister Zo at Good Room
September 15, 2023
---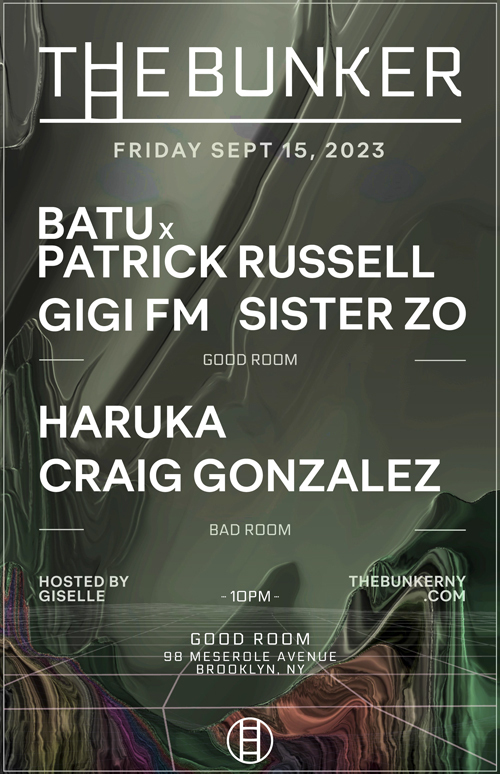 ---
$20-40
We've been sitting on this lineup for a minute and are very happy to finally announce what we've been working on. In Good Room we will be presenting the world premier of Batu x Patrick Russell's collaborative DJ set. Batu is known for not only his Timedance label but also for his genre-melting DJ sets which open wormholes at clubs and festivals around the world. We already had The Bunker / No Way Back resident DJ Patrick Russell on the lineup as we felt he perfectly complemented Batu, when we heard these two had been wanting to play back to back, so … how could we resist?! Super juiced to have those two close out the night. Prime time we have an artist we've been wanting to book for quite some time: GEM (Gestural Electronic Music) founder, NTS Radio Resident, the intergalactic mermaid GiGi FM making her US debut. The perfect opener for this stellar line-up is our very own rising star, Sister Zo who's been keeping busy touring and releasing music including the Arcana EP on All Centre (named in Mixmag as "one of the best releases of the year so far").
In the Bad Room we're presenting longer sets from two veterans from opposite sides of the planet who deserve the shine. Haruka has been active in Tokyo for well over a decade, and is best known for being a resident at DJ Nobu's infamous Future Terror parties. He made his US debut at one of our final parties before the lockdown in 2020, and we've been eager to have him back ever since. We've long been impressed by the mesmerizing sets of Craig Gonzalez, who has been at it in Detroit for nearly three decades. This will be his NYC debut, but he appeared in an unforgettable b2b2b tribute to Mike Huckaby with Mike Servito and Derek Plaslaiko at The Bunker's yearly Movement party at Tangent Gallery in 2022, and has contributed a stellar mix to our podcast series.
As usual, we're bringing in a safer spaces team to hold space for the community and help keep the vibes on point. The Bunker dance floor is for all of us. We don't tolerate the kinds of behaviors that tell already marginalized people that they aren't welcome or that their bodies aren't safe. Consensual touch, respect for personal space, and being gentle with others' mental states are all ways that members of The Bunker express that collective care and safety are necessary for a good party! We don't permit leering, commenting about others' bodies, following people, taking photos or videos without consent, or other types of disrespectful or dehumanizing behavior – and being intoxicated enough that you can't engage with these agreements is no excuse for harmful behavior and won't be tolerated at our events.
We suggest familiarizing yourself with our values and code of conduct before attending the party: