Going In with Keith Fullerton Whitman, M.Geddes Gengras, Nhyne, Camille Altay at Opus 40
August 5, 2023
---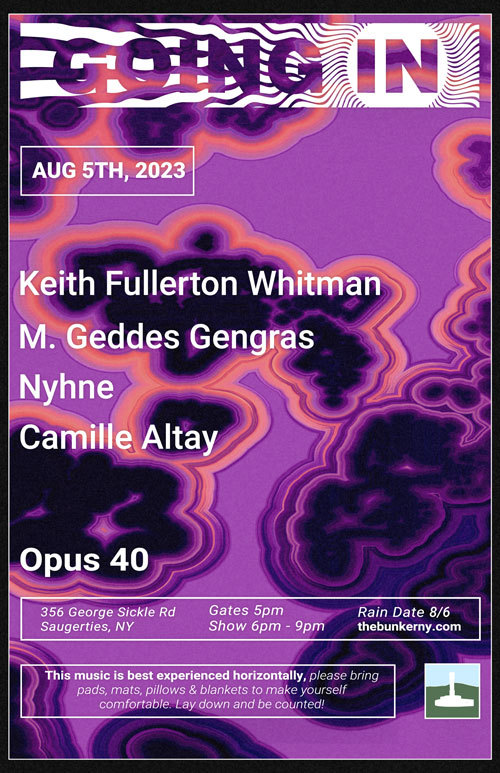 ---
$20 advance, $30 day of show
Going In is a sub-label of The Bunker New York, dedicated to long-form musical compositions geared towards healing, meditation, plant medicine ceremonies, psychedelic therapy, yoga, or simply spacing out and going inside yourself. Going In has presented two 48+ hour online streaming events and released 22 albums since its inception 3 years ago. This evening we present our first in person outdoor event at Opus 40, a gorgeous sculpture park in Saugerties, NY. This is a makeup event for our June 24 event, which was postponed by rain.
This music is best experienced horizontally, please bring pads, mats, pillows & blankets to make yourself comfortable. Lay down and be counted! We strongly encourage no talking during performances at our events.
Keith Fullerton Whitman's body of work is vast. Since the early '90s, the Brooklyn-based electronic musician has recorded a wealth of albums for labels like Kranky, Editions Mego, Planet µ and PAN; taken to the stage at venues as diverse as the Labyrinth festival and the Columbia University Computer Music Center; collaborated with everyone from Thurston Morre to Terry Riley; and made music from across the spectrum of electronic experimentation. Keith has mastered every release on Going In, and has a forthcoming piece we will be releasing before this event. We have never heard Keith do the same thing twice, and he plays to his environment, so it will be interesting to see what he comes up with at Opus 40.
Over the last decade, M. Geddes Gengras has released wide-ranging, synth-focused music in both solo and collaborative settings. In addition to two prolific solo careers (counting his dance-music alter-ego Personable), Gengras is an avid collaborator and has recorded and performed with The Congos, Akron/Family, Sun Araw & members of the Grateful Dead & Cold Sun. When it comes to synth music for fried synapses, Ged is honestly hard to top. He has collaborated with The Bunker many times over the years, and we are truly stoked to have this local icon on the lineup tonight.
Nyhne is a bloodstained poem in an ornate frame. It is the sonic moniker of Nancy Kim, a queer Korean-American interdisciplinary artist, whose work navigates across sculpture, sound, design, and architecture. Their projects consider both time and "waste" as physical materials that transmute into portals to hidden stories. As Nyhne, their music explores feedback, drone, experimental noise, found sounds, ritual, and spoken word, often forming textural landscapes for catharsis.
Camille Altay was born in Chicago, resides in Climax, NY, and though identified primarily as a painter, found a spiritual home in raves and underground music in the late 90s. In a former life, the artist was employed by Universal Studios and traveled extensively painting facades for theme parks across the US and Asia. These worlds collide into a deeply material practice which seeks proof of the real. Camille's band Birds of Prey has released music on Kathexis and Mysteries of the Deep. Camille created the very cool sound reactive sculpture at our Basilica Hudson event and just released an album on Going In.
We don't tolerate the kinds of behaviors that tell already marginalized people that they aren't welcome or that their bodies aren't safe. Consensual touch, respect for personal space, and being gentle with others' mental states are all ways that members of our community express that collective care and safety are necessary for a good event. We don't permit leering, commenting about others' bodies, following people, taking photos or videos without consent, or other types of disrespectful or dehumanizing behavior – and being intoxicated enough that you can't engage with these agreements is no excuse for harmful behavior and won't be tolerated at our events. We suggest familiarizing yourself with our values and code of conduct before attending this event:
https://www.beyondbooking.org/values
What to expect when attending an event at Opus 40:
-Entry is at 356 George Sickle Rd, Saugerties, NY
-No Pets (sorry, we love animals!)
-Concerts may be canceled if there are sustained heavy rain storms. All ticket buyers will get an email and full refunds.
-Bring a chair / picnic blanket. We also have a limited number of wooden folding chairs and picnic tables on site.
-No Outside Food or Alcoholic Beverages. Outside snacks and non-alcoholic beverages are OK (small coolers only). Every show has 1-2 food local vendors onsite as well as cocktails/beer/wine at the Stockade Tavern barcart. Water/Drinks, Snacks and more available in the gift shop.
-The Sculpture typically closes when music begins. We encourage you to come early and explore the grounds before the show!
-ADA parking is available (follows signage) and Carpooling is always encouraged!
-Children under 5 years old are free and do not require a ticket. Please be considerate that this is a concert and not a playground, and that all children under 15 must be with a guardian on the sculpture.