The Bunker with Moritz Von Oswald, Leeon X Derek Plaslaiko, Greem Jellyfish at H0L0
September 30, 2022
---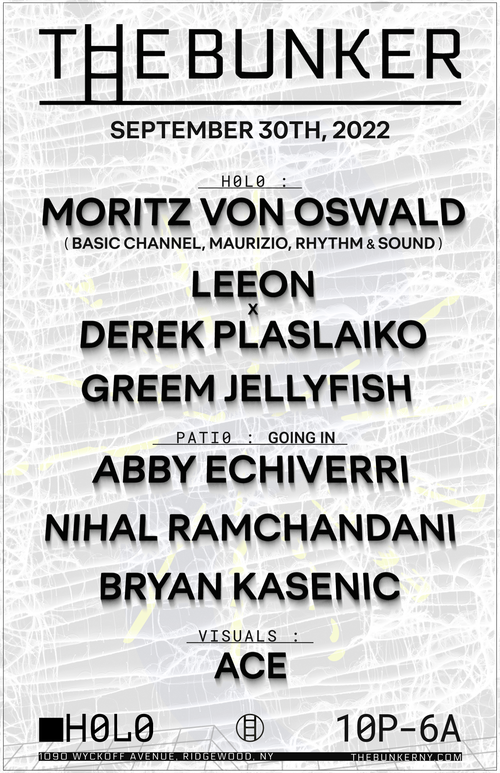 ---
$20-40
The Bunker is thrilled to present our first event at H0L0 in Ridgewood with a doozy of a lineup.
There is no higher honor for us than hosting Moritz Von Oswald at our party, and tonight will mark his 5th appearance at The Bunker. Through his work with Mark Ernestus on legendary projects such as Maurizio, Basic Channel, Main Street Records, and Rhythm and Sound, Moritz played a major role in developing a minimal dub techno sound that is often imitated, never duplicated. Moritz has also collaborated with Juan Atkins, Carl Craig, and Underground Resistance, creating a crucial connection between the Detroit and Berlin techno sound. Basic Channel's sub-label Chain Reaction pushed this sound even further into the ether. In more recent years, his work with the Moritz Von Oswald Trio has explored jazz and improvisation. It is impossible to overstate the influence of Moritz Von Oswald on modern music.
When our resident DJ Derek Plaslaiko and Bogota's Leeon first met and heard each other perform at The Bunker's 19 year anniversary in January, they quickly proposed doing a back to back set as soon as possible. Tonight we present the world debut of that collaboration as Derek and Leeon present us to an extended closing set that is sure to be completely mental while shaking the walls of H0L0.
Warming up the room, making her debut at The Bunker, we have Greem Jellyfish. Born in Seoul, based in Brooklyn, and known as a member of techno collective Dust of 2MR, we're excited for Greem to share her infectious energy and good vibes with our dancefloor.
Visuals inside H0L0 provided by ACE, who has been doing all of our graphic design work and psychedelified all of The Bunker streams during lockdown.
Outside on the patio, we have a full Going In takeover. Going In is a label project of The Bunker New York, dedicated to long-form musical compositions geared towards meditation, plant medicine ceremonies, psychedelic therapy, yoga, massage, spacing out and going inside yourself. Abby Echiverri, who has released on both The Bunker and Going In and is now a member of LCD Soundsystem, will treat us to an extended set. Nihal Ramchandani, one of the deepest music heads we know, will dig deep into his collection. And last but not least we have The Bunker and Going In founder Bryan Kasenic, who will be celebrating his birth on this night.