The Bunker Limited New Year's Eve at Brooklyn Warehouse To Be Annouced
December 31, 2017
---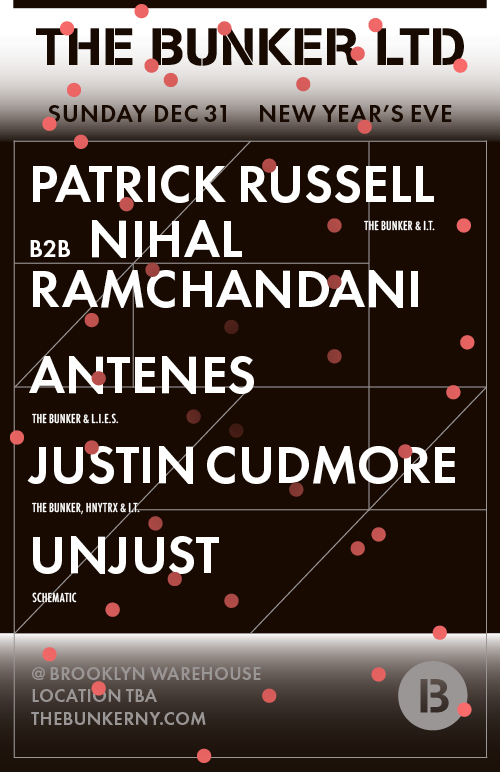 ---
$20-30 advance
The Bunker Limited is back, with our first LTD party since New Year's Eve 2 years ago! We have a 300 person warehouse venue in Brooklyn that we think you're going to love. You've heard Tsunami Bass Sound System at our events for years now, but you've never heard their FULL rig at The Bunker, which will be powering this event.
For those of you who want to come celebrate at midnight with us, we have Unjust providing a warm opening set. For those of you who want to toast at home and come a little later, we'll have peak time sets from The Bunker's rising stars Antenes and Justin Cudmore. If you're looking for some afterhours action, we have Patrick Russell and Nihal Ramchandani closing the night with a rare extended b2b set that should take us to the outer limits of our minds.
If you're sick of big amateur hour crowds and NYE hype, this is the party for you.
PLEASE READ THESE GUIDELINES BEFORE PURCHASING YOUR TICKETS:
The venue address will be released only to ticket holders on the day of the event. Location is convenient to the L train in Ridgewood. We will not be posting the address on any social media and ask that you respect that refrain from posting it publicly.
By paying to get in, you agree to and fully understand that we operate legally DRY and have promised the local authorities we are strictly 21+, do not allow any sale of alcohol or drugs on the premises, and will NOT congregate in the street or create issues for our neighbors. Full compliance is required for entry.
There is no alcohol sold or permitted on site with the EXCEPTION of PERSONAL FLASKS and unmarked refillable water bottles. Anyone found in violation will be denied entry or removed without refund. No exceptions. If you would like to liquor up otherwise, there are several bars in the area.