The Bunker presents Tobias, Prosumer, Derek Plaslaiko, Spinoza, and Eric Cloutier at Public Assembly
May 21, 2010
---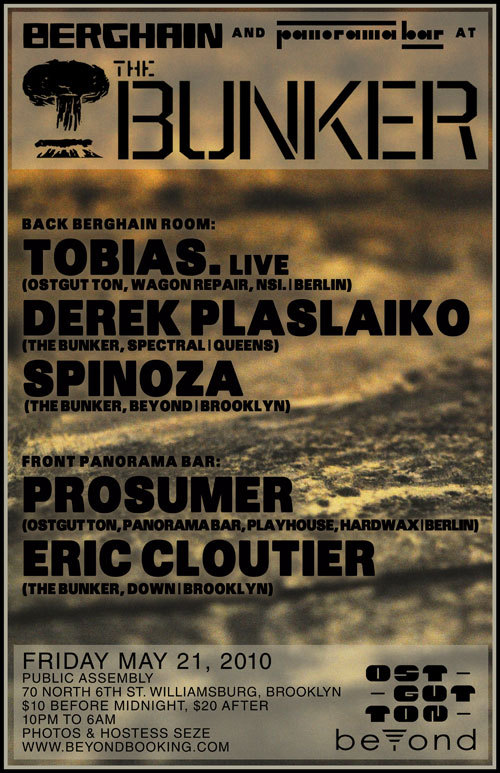 ---
$20
On May 21, we are proud to announce the launch of the new Berghain and Panorama Bar residency at The Bunker. Already well established as the home for these artists in Brooklyn (with appearances over the past year and a half by Marcel Dettmann, Shed, Ben Klock, and Marcel Fengler), The Bunker will now be producing quarterly parties where we will be hosting Berghain and Panorama Bar residents exclusively in New York, alongside our own resident DJs. For anyone who's been living under a rock for the past five years, Berlin's Berghain and Panorama Bar have established themselves as two of the world's greatest clubs (under one roof, no less). Known for having some of the best resident DJs in the world, an impeccable curation of guests, top-notch sound systems, and weekend-long debaucherous parties, they get everything right and throw what are arguably some the best parties in the world. We couldn't be more excited to launch this series with Tobias and Panorama Bar's Prosumer.
NOTE ABOUT SHED: Yes, we know, many of you were extremely excited about Shed's scheduled appearance. Believe us, we were too. It is with heavy hearts that we have to announce that do to work permit issues well beyond our control (believe us, we did everything possible and have been working on this since January, but sometimes it just doesn't work out), he wont be able to come to the US at this time. As this is such a last minute cancellation, and because they are all in such high demand that weekend with European and Japanese gigs booked already, we were unable to find a Berghain resident to fill in for him. But we are very happy to announce that Tobias., who plays at Berghain very frequenty, appeared on an Ostgut record, is married to a Panorama Bar resident, and perfectly nails the sound of the club, will be joining us in his place.
Tobias. is Tobias Fruend, also known as Pink Elln and one half of both Sieg Über Die Sonne (with Dandy Jack) and Non Standard Institute (with Max Loderbauer). Recently, he's gained a lot of attention with wildly popular dancefloor tracks and remixes on labels like Cadenza, Wagon Repair, and Ostgut Ton, but he's been producing his own brand of electronic music for over 20 years. With his current projects as Tobias., Non Standard Institute, and Odd Machine (an open collaboration with Ricardo Villalobos, Atom Heart, and others), Freund has redoubled his efforts to strip house and techno back to their most skeletal forms, all the while pushing at the limits of electronic sound design. Tobias was all set to perform his North American debut set at the Unsound Festival New York, but his passprt (with brand spanking new US Work Permit attached), got lost in the mail and he had to cancel last minute. By some amazing streak of luck, he is available to fill in for Shed at the last minute for his New York debut.
As if having Tobias isn't enough, we've also secured Prosumer, Panorama Bar resident and one of our favorite DJs in the world, to play an extended set in the front room. We've been trying to book him for a long time now, but as he is a vinyl purist, and you really need a work permit to enter this country with a huge bag of wax, it took considerable time and effort to make this gig a reality. Although he has slowly released a stream of amazing 12"s and even an album on Ostgut Ton with Murat Tepeli, he is more well known for his stunning DJ sets than anything. It's hard to explain his style other than to simply say that he totally gets the art of DJing in a way that very few people ever have or will. Expect a skillful, emotional, perfectly programmed set full of some of the best house and techno you've ever heard. That said, you never know exactly what to expect with Prosumer, as he's the kind of guy who will expertly read the crowd and give the party exactly what it needs at any given moment.