The Bunker presents Substance & Vainqueur, DJ Pete, René Löwe, Daniel Bell, Fred P, Derek Plaslaiko, and Spinoza at Public Assembly
November 6, 2009
---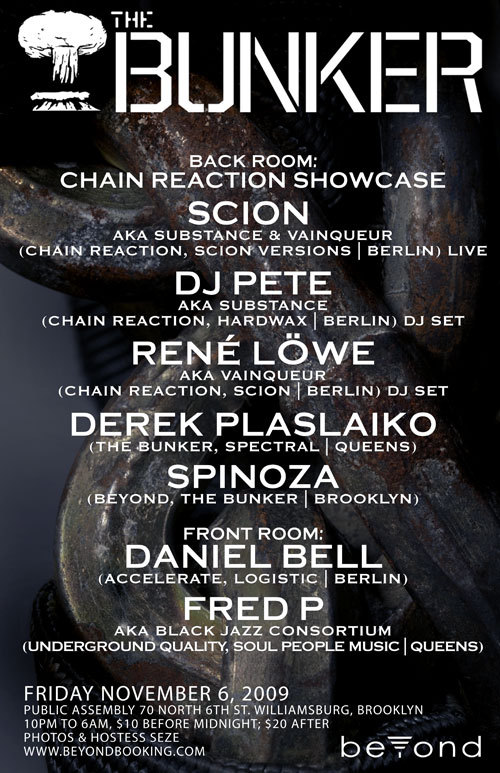 ---
$10-20
Moritz Von Oswald and Mark Ernestus created one of the most important bodies of work in the history of electronic music with their releases as Basic Channel, Maurizio, Burial Mix, and Rhythm & Sound. They created the Chain Reaction label to release the music of other artists, introducing the world to Monolake, Vladislav Delay, Porter Ricks, and tonight's special guests Substance, Vainqueur, and their collaborative Scion project. While Moritz and Mark set the bar incredibly high with their own productions, the Chain Reaction catalog is equally impressive. There is simply no way to overestimate the influence these labels had on the founding of The Bunker, not to mention it's overall impact on the electronic music universe. Tonight, DJ Pete (aka Substance) and Rene Lowe (aka Vainqueur) will present DJ sets and a collaboritive live set as Scion. These guys are two of the best DJs we've ever heard. Pete has worked at the legendary Hardwax store in Berlin for 18 years, and has probably forgotten more about techno that most of us will ever know. Their live sets as Scion have taken them around the world, playing everywhere from Berghain in Berlin to the Labyrinth Festival in Japan. We can barely contain our excitement over the fact that these guys are playing at our party.
Daniel Bell is considered to be one of the pioneers of the minimal techno genre. Born in Sacramento, California, Bell grew up outside of Toronto, and later moved to Detroit where he collaborated with Richie Hawtin as Cybersonik for three years on Plus 8 records. In 1991, he started his own label, Accelerate, where he released a string of extremely influential releases as DBX. Bell was influenced primarily by Chicago House as well as the works of Steve Reich and Philip Glass. His productions are characterized by minimalist house grooves accented by blips and bleeps. Some tracks also feature bizarre voice effects and eerie atmospherics such as "Losing Control," which caused a sensation when released in 1994. In the mid to late 90's Bell moved behind the scenes to create 7th City Distribution which exclusively pressed and distributed Robert Hood's M-plant, Dopplereffekt's Dataphysix and Anthony Shakir's Frictional record labels, to name a few. He also launched Elevate, Harmonie Park and relaunched 7th City Records. Debut releases on these labels helped kick start the music careers of Todd Sines, Rick Wade, Theo Parrish and Shawn Rudiman among others. In 2000, he relocated to Berlin, Germany, and released his first dj mix CD, "The Button-Down Mind of Daniel Bell," on Tresor Records to wide critical acclaim. 2003 brought a follow-up release on Logistic records, "The Button-Down Mind Strikes Back," and soon after a retrospective cd of older work was released: "Blip, Blurp, Bleep: The Music of Daniel Bell". For the past few years Daniel has kept a heavy dj schedule that has brought him all over the world. In 2008, he took a live set that focused mainly on the classic DBX material on the road for a very limited tim, playing at DEMF and a handful of dates in Europe (plus a super surprise unannounced set at the Bunker for those lucky enough to catch it). He is currently taking some time to focus on producing new music at his studio in Berlin, which will hopefully be seeing the light of day in the near future. Tonight he will be treating us to a 4 hour set. Anyone who has experienced Dan's previous long sets at The Bunker will tell you that this is a special treat you do not want to miss.
DJ, Artist, and Remixer extraordinaire Fred P is the mind behind Black Jazz Consortium and the owner of Soul People Music. Recording for a wide range of labels, most notably DJ Jus-Ed's Underground Quality, Fred P has gained a following of true deep house lovers all over the world. Staying true to his sound and vibe makes him a unique contributor to this genre. Fred is a mysterious man of few words, choosing to let the deep personal vibe of his music speak for him. With such a prolific output of amazing music, it's clear that Fred has a lot to tell us, and you'll be hearing a lot more in years to come. The last time Fred DJed for us at House-N-Home he played some of the deepest, most insane aquatic house music we've ever heard, and we're extremely excited to see what he brings to the table for this extended set opening for Mr. Bell.