The Bunker presents Pär Grindvik, October, BMG, Sal P, Mike 'Agent X' Clark, Leroy Burgess, Mike Servito, and Secrets at Public Assembly
October 2, 2009
---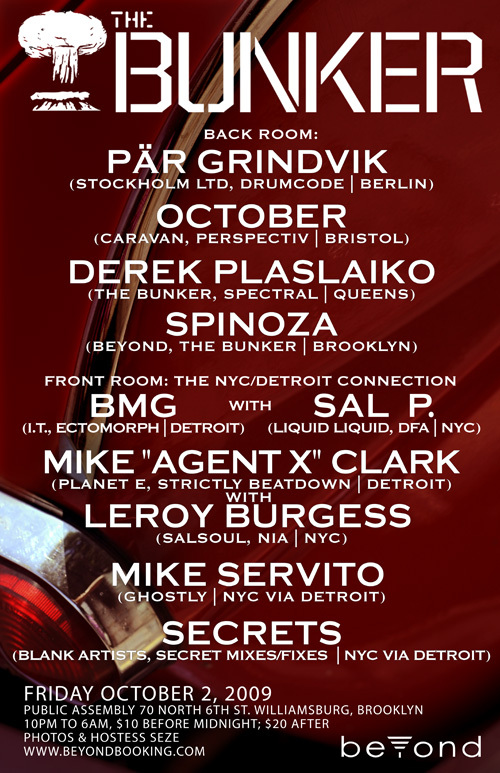 ---
$10-20
Pär Grindvik began contributing to the Swedish electronic music scene as a deejay and owner of the Illegal Stockholm record store in the '90s. After being a diligent student of the music for many years, he founded the Stockholm LTD label and started releasing his own productions in 2002. Swedish techno superstars Adam Beyer (Drumcode) and Joel Mull (Inside) both immediately recognized Grindvik's talent and started to release his 12"s on their own imprints. Over the years, he's stayed busy in the studio and released dozens of records, each one maintaining his amazing sonic signature and sound design while introducing new ideas. In recent years, Pär has done high profile remixes for Fever Ray, Tim Xavier, Seth Troxler, and Alex Under, and has been remixed by everyone from Dettmann and Klock to Len Faki. We've been working with Pär to get him to The Bunker for quite some time now, so both camps are buzzing with excitement that's it's finally going to happen.
Julian Smith aka October is one of the most interesting producers to come across our radar in recent years. He messed about with drum'n'bass and breakbeat for a few years before really hitting his stride in the studio and establishing his own label, Caravan, in 2007. Aside from his many fine records on Caravan, he's released 12"s for Ripperton's Perspectiv imprint, and is working on some slowmo cosmic disco for Ewan Pearson's Misericord label. His recent productions fit into our favorite genre of all time, which is to say they don't really fit comfortably into any one genre. His affinity for Detroit techno, house, idm, minimalism, and various mutations of UK bass music is obvious, but he weaves these influences to create a unique sound that's all his own. His intuitive understanding of what works for an educated dancefloor has led to DJ gigs at Panorama Bar, Robert Johnson, Harry Klein, The End, Fabric, and BLOC Weekend. Despite his appearances at these many fine clubs, he claims that The Bunker has been his #1 dream gig for awhile now, and we're thrilled to present his North American debut.
Tonight in the front room we celebrate the connection between Detroit and New York City dance music. It could be argued that the influence of the highly cross polinated music scenes in late '70s and early '80s had on NYC's dance music is parallel to the tremendous influence that The Electrifying Mojo's eclectic radio shows had on a generation of Detroit's earliest electronic music producers. The Bunker is not only tied to Detroit through our Detroit ex-pat resident DJ Derek Plaslaiko, but also through the many Detroit artists we've hosted as special guests over the years. The Bunker has provided a NYC homebase for everyone from headliners like Daniel Bell, Magda, Matthew Dear, Suburban Knight, Clark Warner, and Ryan Elliott to current stars like Ryan Crosson, Seth Troxler, and Lee Curtiss (all of whom played their first NYC gigs at The Bunker), to next generation talents like Drew Pompa, Josh Dahlberg, Jared Wilson, Carlos Souffront, Luke Hess, Brian Kage, Chuck Flask, and Rich Korach. Tonight we bridge our two cities with collaborative performances from some historic Detroit DJs with legendary New York musicians, bookended by sets from two DJs with one foot in Detroit and the other in NYC.
BMG, also known as Brendan M. Gillen, has a very unique and interesting perspective on the history of dance music. A real historian, he's the kind of guy who can talk endlessly about pretty much any artist you can think of and offer new information and insights, no matter how nerdy you thought you were about the subject. He is perhaps most well known as one half of Ectomorph and founder of Detroit's Interdimensional Transmissions imprint. He was an early adopter of Ableton Live, and uses it in his DJ sets to quickly mix between classic material and newer sounds, leaving no genre untouched while getting deeply psychedelic in the mix. The "No Way Back" parties in Detroit that Brendan is involved in are truly inspiring events that rank as some of the best parties we've been to. A chance meeting with Sal Principato has led to an ongoing collaboration. Tonight, Sal plays live over Brendan's DJ set to celebrate their upcoming "Credit Card" 12" on I.T. We've heard the unmastered mixes of the new material, and this stuff is deadly! BMG will have some white labels on hand at the party.
Sal Principato is best known as one of the original members of legendary New York group Liquid Liquid. Calling Liquid Liquid "legendary" is actually an understatement. Although they really started from an art-rock background, it was the early club scene that really embraced their sound. This is what made New York's music scene so interesting in that era, the division between the avant garde and pop music was fuzzy at best, and collaborations and cross pollinations were celebrated. One of the early Liquid Liquid singles was the basis for Grandmaster Flash & The Furious Five's massive hit "White Lines", and was played by early visionary DJs such as Afrika Bambaataa and Larry Levan. Much of the popular "dance rock" music you hear today simply couldn't exist without Liquid Liquid. Rumor has it that Liquid Liquid is back in the studio working on material that could see the light of day soon. As mentioned above, Sal will be adding vocals, percussion, and other instrumentation over BMG's DJ set tonight. They have previously performed together at DEMF and PS1.
Mike Clark is one of the oldest of the old-school heads from Detroit. Trying to uncover his involvement in the history of Detroit dance music is somewhat difficult, as he's always been a behind the scenes "man in the shadows" who hasn't made documenting his role a primary concern in life. But he's been there through it all: as a part of the Underground Resistance live show, as a DJ mentor to everyone from Jeff Mills to Kyle Hall, as a contributor to endless studio productions (both credited and uncredited), and as a DJ at many key Detroit parties. He founded the Beatdown Sound movement with Delano Smith and Norm Talley, as a way to make Detroit electronic music's connection to soul much more vivid. The pitched down Beatdown house sound has reached a wide audience primarily through the DJ sets of artists like Kenny Dixon Jr and Theo Parrish, in addition to the founders. Tonight Mike performs with another living legend, Leroy Burgess.
While it's possible that many of you don't really know who Leroy Burgess is, you've probably heard one of his many classic tracks at a party. Inner City's "Moment of My Life"? Produced, written, and arranged by Leroy. Black Ivory "Mainline"? That's Leroy on vocals. Aleem's "Releases Yourself"? Leroy on vocals again. Class Action "Weekend"? Yeah, it's the first record on Arthur Russell's Sleeping Bag records, and Leroy wrote the original track. Universal Robot Band "Barely Breaking Even"? Leroy! Aside from these and many other contributions to the Harlem disco sound (seriously, the list is endless), he's played and collaborated with Rick James, Herbie Mann, and many more legendary artists. Tonight Leroy sings and plays keyboards over Mike Clark DJ set.
Mike Servito is a DJ's DJ – a lifelong music fanatic with a truly unique ability to move a dance floor. Fearless in his seamless transitions from one style to another, Servito has an unpredictability and a deep trust in his music knowledge that has garnered him a cult following and made him an in-demand DJ the world over. Although Servito is an NYC transplant, his DJ style is unmistakably Detroit. Inspired by Detroit radio the '80s and the city's local DJs in the '90s, Servito came of age in a flourishing electronic music scene, making his debut in 1995 and immediately gaining the attention and respect of his peers and local techno heroes. After a brief hiatus, Servito was lured back into the game through the vigorous encouragement of his close friend Magda, and returned to the DJ realm in 2002. Servito redefined himself, finding inspiration in the new generation of electronic-music producers and DJs. Mike Servito was among the original UNTITLED residents, whose ranks include Matthew Dear, Derek Plaslaiko, Tadd Mullinix, and Ryan Elliott. He has played multiple Detroit Electronic Music Festivals and has held court with some of the best talent in the world. In 2008, Servito became the newest addition to Ghostly's DJ roster, and has happily returned to DJing and traveling the world playing his favorite music.
Let's be clear — Secrets is a dirtbag. A dirtbag and a burnout, in fact. Truth be told, the only thing separating Matt Abbott (aka Vacuum and Secrets) from your run-of-the-mill, drug addled, lowlife, redneck, hoodrat motherfucker is that he is the owner of a laptop computer and a stellar record collection. With these two resources, a good ear, and a brain wired for weird, Vacuum turns out quirky, funky, techno and house jams, as well as disco re-edits and the odd yacht rock/coke rock compilations. Matt Abbott's got more pseudonyms than can be listed here (snaps+handclaps-shank-vance hattaway-etc), is part of 2 shitbag groups (G.O.D. (Guys On Drugs), and DEATHSQUAD) and has remained a bright light in Detroit's on-again, off-again, party scene since the mid 90's as a DJ, live act, and party promoter. Keep Vacuum on drugs and out of the gutter. Matt lived in Brooklyn from March through August 2009, after flying in to play a gig for Derek and Big Bully and not using his return ticket. In that time period he played an amazing set at Seze's Kiss & Tell party, which became a wildly popular Bunker podcast. Now he's stranded in Detroit and we're flying him here for The Bunker with no idea where he's gonna end up.