The Bunker presents Heartthrob at Luna Lounge
June 1, 2007
---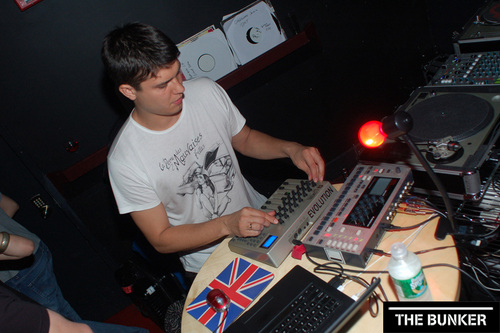 ---
$10
Jesse Siminski, Aka Heartthrob was born in 1976 in Northern Michigan. He discovered dance music through a musician father and relative who owned a record store. Early Prince, Kraftwerk's 'Tour de France' and Laid Back's 'White Horse' were three of Jesse's childhood favorites. As a teen in the early nineties, he discovered the Midwest Rave scene, traveling to Chicago, Detroit, Minneapolis and Milwaukee to hear the unique sounds of the area. This is where he first hear and connected with the music of Richie Hawtin, Drop Bass Network and Communique Records, pioneers of minimal acid and techno. Their dynamic and challenging aesthetic had an impact. Shortly after Jesse became determined to make his own music and started collecting gear and records.
In 1999 Jesse moved to New York City where he continued to experiment with music as well as contemporary art. New York's small minimal scene brought him to Magda and Troy Pierce, who would become friends and sources of inspiration (musical and otherwise). Shortly after, Richie Hawtin moved into the neighborhood and a friendship with the Minus family was established.
We were instantly blown away by Jesse's music when he played live at one of Kevin McHugh's Micro-Mini parties at Filter 14, and his first release on Jay Haze's Textone MP3 label (as Vivianne Projects) still gets played at the Bunker. He has played at many Beyond events in the past: the Bunker (twice, including the now legendary Mini-Mutek party in 2005) and at one of the also now legendary Wolf + Lamb parties at the Marcy Hotel one sweaty night in the summer of 2005. Shortly after, Jesse's boyfriend was offered and amazing job in Paris, and Jesse was getting tons of booking requests in Europe, so they decided it was time to leave NYC.
Jesse has releases and remixes (past and forthcoming) on Minus, Underline, Contexterrior, Alphahouse, UnFoundsound, Mos Ferry, Get Physical, Wagon Repair, Tora Tora Tora, Phonocult, Esperanza and Stock 5 amongst others. He has been hosted to play at venues such as Fabric (London), Popkomm at Watergate (Berlin), Volt (Amsterdam) and Batofar (Paris). Since he was last in NYC, he released "Baby Kate" on M_nus, one of the biggest techno tunes of 2006, and has become even more of superstar.
NYC really misses Jesse and the Bunker is thrilled to present his homecoming gig.