The Bunker presents Kassem Mosse, Led Er Est, Mike Servito, Jonathan Schmidt, JD Emmanuel, Keith Fullerton Whitman, Rene Hell, Raglani, Michael Pollard, Mindscraper, Spinoza, and ISO at Public Assembly
June 15, 2012
---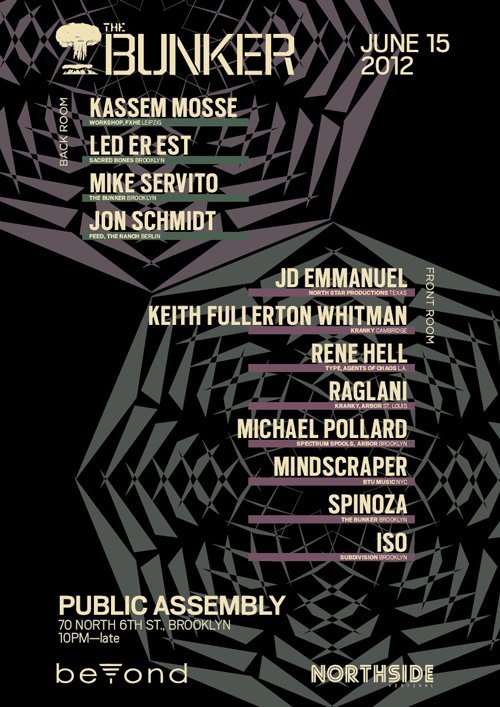 ---
The Bunker presents Kassem Mosse, Led Er Est, Mike Servito, Jonathan Schmidt, JD Emmanuel, Keith Fullerton Whitman, Rene Hell, Raglani, Michael Pollard, Mindscraper, Spinoza, and ISO at Public Assembly 70 North 6th Street 21+, 10p-6a
$20
Following the success of the showcase we produced with Wierd and No Fun for last year's Northside Festival, we've decided to go all out and produce a show for the 2012 fest that brings together some of the many types of music we are actively collecting and interested in. In the back room, following a set from darkwave synth band Led Er Est, we have one of house music's most interesting artists, Kassem Mosse, with a very live PA, supported by dancefloor filling sets from our resident Mike Servito and old pal Jonathon Schmidt. The front room is headlined by 80's synth legend JD Emmanuel, and modern day Keith Fullerton Whitman, a legend in his own time. In addition to their solo sets, they will present a world premier duo performance. Support in the front room comes in the form of solo synth sets from Type's Rene Hell, plus Raglani and Michael Pollard of Spectrum Spools. Iso and Spinoza will be DJing ambient and experimental music before, between and after the live sets.
Not a lot is known about German artist Kassem Mosse, and we're happy to keep it that way. He came to our attention via his string of releases on the mysterious Hardwax-distributed Workshop label over the past few years. The deeply narcotic sound of these records reference many of our favorite artists, yet have Kassem's undeniable sonic signature written all over them. His extended, spaced-out, hardware-heavy North American debut set at The Bunker last July absolutely floored everyone in attendance, so we'd say you are in for a real treat tonight with this live set from one of electronic music's most unique voices.
JD Emmanuel is a minimal synth wizard from Texas who started releasing music on his own North Star Productions in the early 1980s. Some of the music he released during this period ("Trance-Formations I: Ancient Minimal Meditations" and "Wizards") rate amongst our all time favorite synth albums. Frustrated by a lack of recognition and success, he gave up releasing music in 1987, and was rarely heard from for about two decades. In the late 2000s, there was a renewed interest in his music, and his tapes and albums started changing hands for hundreds of dollars in second hand markets. This led to some reissues and shows, and now JD is finally getting some of the recognition he deserves after all these years. Believe it or not, tonight marks his debut New York performance, and we couldn't be more honored to host it. In addition to his solo set, JD will be performing a special duo with Keith Fullerton Whitman.
You may have noticed that we have Keith Fullerton Whitman perform nearly every time we host a synth night at The Bunker. Keith never fails to impress us, taking full advantage of different sonic environments to make something completely new each time he plays. We asked him to prepare a special set for tonight based on an Eikhein tape he made last year that was quite a divergence from his recent batch of releases, which we thought would go quite well with JD Emmanuel's set. A long-time fan of JD's work, Keith was up to the challenge, and even sent us this Vimeo preview of what he is working on. Furthermore, Keith will be performing a duo with JD Emmanuel in addition to his solo set!! We will also be celebrating the release of Keith's brand new album, "Occlusions", due out on the mighty Editions Mego on June 19.
A lot of fuss has been made over minimal synth music in the past few years, in many way thanks to the efforts of the New York record labels Wierd and Minimal Wave. Led Er Est is undeniably one of the best outfits to rise up through this scene. On stage and in the studio, Led Er Est create a thick wall of atmospheric soundscapes using vintage analog recording devices, samplers, and synths using sci-fi soundtracks and cold wave as reference points. Their debut album on Wierd made waves and their brand new effort for Sacred Bones is even better (you can stream it from the link below to hear for yourself). Band member Shawn O'Sullivan DJ'd between front room sets as Shawn NoEQ at The Bunker / Wierd / No Fun showcase at Northside Festival last June, and has gone on to release stunning techno 12"s for Speculator's WT Records and Ron Morelli's LIES. Led Er Est will take the back room stage for their first Brooklyn show since last fall.
Rene Hell is the latest and possibly greatest moniker of US noisenik Jeff Witscher. With this project we find him focused on synthesized kosmiche sounds – but unlike many of his contemporaries, instead of delving into nostalgia there is something decidedly modern about Witscher's compositions. The bubbling, effervescent synthesizer sequences and percussive patterns seem to twist and turn over each other with a near-techno precision, and at times you might be forgiven for thinking that his sound has more in common with Basic Channel than Cluster. Electronic music has been much maligned in recent years and its contemporary rediscovery seems almost too rooted in kitsch to be taken seriously, but Jeff Witscher's synthesizer gospels are more than just a flash in the pan. This is analogue exploration at its best, and once it digs its rusty talons into you, it refuses to let go.
One of our absolute favorite albums of 2012 so far came from Bryter Layter, a duo made up of Saint Louis synth star Raglani and Michael Pollard (also known as Pale Blue Sky and the dude behind Arbor). When we asked Keith Fullerton Whitman if he thought they would be a good addition to this bill, his enthusiasm was overwhelming, and he immediately put us in touch. It turns out that the Bryter Layter material was made in 2009, before Raglani had all of the gear used on the album stolen from a van in Williamsburg, so a live performance of the material would be impossible. Thus, we went along with their suggestion to play solo sets. Raglani has not been back to the East Coast since he played No Fun Fest in 2009. "Husk," a brand new double LP on Arbor that collects some of his best work from 2004 to 2009, is absolutely essential listening, as is the Temporal Marauder album he released on Spectrum Spools last year. John Elliott of Emeralds told us that "Michael Pollard is the best possible addition to this bill, and he's probably the most under rated and hardest working artist in the States". His forthcoming album on Spectrum Spools is sure to turn some heads and put him on the radar.
Many of you know Spider (who is celebrating his birthday this weekend) as the guy behind Plan B and Deep See, but tonight he presents a different side of himself with his dark ambient project. Mindscraper is a full on live act fronted by Spider and The Butcha aka Phil Moffa from Butcha Sound Studios in New York. Their unique blend of dark, ambient and analog subsonics are generated live using home made synths, samplers, effects, and circuit bent electronics.
In addition to all the live sets tonight, we have some DJs from The Bunker family joining us as usual. In the front room before, between, and after the live sets, Sub Division's Iso and The Bunker's Spinoza will be treating you to ambient, experimental, drone and other oddities. The back room will turn into the usual techno and house party you expect from The Bunker around midnight, with sets from our resident DJ Mike Servito and old pal from The Ranch Jonathon Schmidt, who is briefly visiting from his new home in Berlin.