The Bunker 7 Year Anniversary with Speedy J, Neurotic Drum Band aka John Selway and Ulysses, Nick Chacona, John Roberts, and Bethany Benzur at Public Assembly
January 8, 2010
---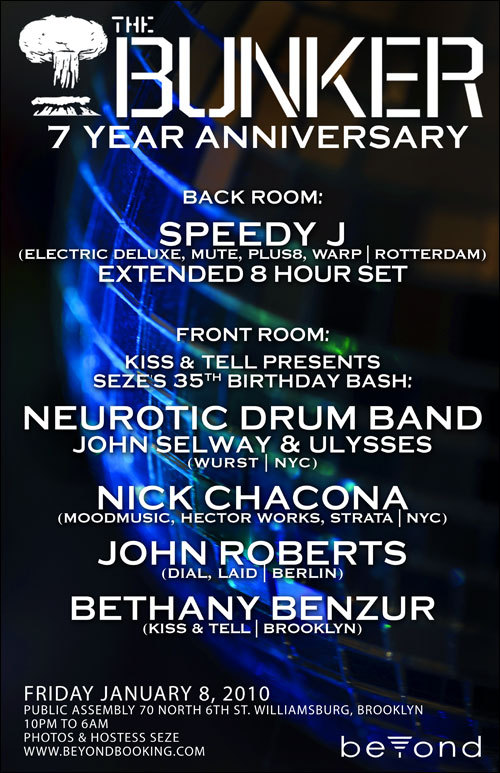 ---
$20
This January 8, for The Bunker 7 Year Anniversary, we decided to go all out and do something kind of crazy we've been attempting to pull off for years. We're turning over the back room to Speedy J for the entire eight hours of the party. To help balance the insanity that will occur in the back room, we've invited our sister party, Kiss & Tell, to present our hostess and photographer Seze's 35th Birthday Party in the front room. In addition to a stellar lineup, Seze will be presenting a slide show of her extensive archive of party photos from The Bunker.
Jochem Paap, better known as Speedy J, has been making his mark on techno for as long as he's been making it. In the early 90's, he played a critical role in shaping what became the sound of Plus 8 with dancefloor monsters such as "Pullover" and "Evolution". After two albums that were more geared towards the dancefloor, he started going out a bit more with the LP's "Public Energy No. 1" and "A Shocking Hobby". While those album's were more sonic and textured and maybe a bit more experimental, they proved more of what Jochem was capable of in the studio, and are some of the more interesting stuff we've ever heard. Moving on, he started to take things back to the dancefloor crafting four to the floor techno, while still maintaining what he'd learned previously. Again, forging new ground sonically. It's really hard to pin his sound down. His performances are unmatched by nearly anyone. His tastes are so broad, and he just seems to know how to bring it all together. Which is why we have decided to give him the entire night for his set at The Bunker 7 Year Anniversary: a rare treat that he seems as excited about as we are. We recommend being there for the whole thing. It is surely going to blow some minds.
John Selway and Ulysses are no strangers to The Bunker. They've played together as Neurotic Drum Band at one of The Bunker's infamous 303 Acid parties, and also made the only live appearance of their career at The Bunker. These days, they rarely perform together, as both of them have busy schedules balancing family with career. Their recent 12" on Wurst went to number one on the Juno charts, which is no small feat. Tonight, they will likely be playing lots of the party jams and forgotten classic club records that help define the somewhat undefinable Kiss & Tell sound.
It's nearly impossible to pin down Nick Chacona's genre, but you can definitely pin down his vibe: a fucking good time. Much of his productions are based around the space disco sounds with heavy dub influences, but that's not at all where he draws the line. His discography just keeps growing and growing with releases on Moodmusic, 2020 Vision, Ben Watt's Buzzin Fly, Saw, Dogtown, Bearfunk, and the inaugural release for Prins Thomas's Internasjonal, not to mention a very extensive remix list. His extremely versatile DJ sets have gained his high regard across the US from NY to San Francisco, as well as Brazil, Germany, Spain, Poland, Romania, Belgium, Sweden, Serbia, Holland, and the UK. You never know what you're going to get out of him, save for what we already mentioned above: an extremely good time!
2009 was a big year for John Roberts. He started gaining a lot more attention for not only his ridiculously good EP's, but for his live shows as well. You may recall him kicking off the year by DESTROYING the front room on our anniversary party last year. Since then, he has been playing shows all over the globe and quickly gaining a ton of notoriety for them. 2010 will see the release of his first full length, which we have heard, and it's nothing short of brilliant. Definitely looking forward to having John back in town to do what he does best: wreck shop with some of the deepest house music imaginable.
Bethany Benzur is Kiss & Tell's resident disco encyclopedia and vinyl purist from Georgia. Recently emigrating to the Big Apple, Bethany has been ruling the dancefloor at Kiss & Tell parties with her Southern charm. The DJ nerds are regularly awed by her selections of raunchy electro, glamorous dark disco, and soulful street funk.