The Bunker presents Reference aka Luke Hess and Brian Kage at Public Assembly
October 24, 2008
---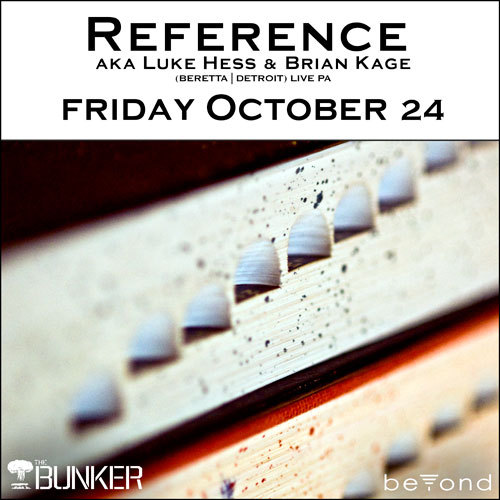 ---
$10
Reference is the name given to the Detroit based duo comprised of Luke Hess [Beretta / FXHE / Kontra-Musik / Modelisme] and Brian Kage [Beretta / Monoid / Azure / Thinner]. Their solo records have been charted and played by top producers and DJs throughout the globe. They have come together to tear down long established boundaries of dance music, and to bring unprecedented degrees of movement, dynamism, and energy to dance floors.
Their debut came in 2007 with a remix for Keith Kemp's 2045 EP, which was a top seller on Beatport, bursting with gritty, funky, zoned-out-grooves. Their follow up solo EP on Beretta Grey in May 2008 became an instant hit with top DJs around the world. They were recently invited to play at the Movement festival on the beatport stage in Detroit. Look out for their upcoming Fall collaborations with artists Ryan Crosson, Lee Curtiss, Marko Furstenberg, Myers Briggs, and Seth Troxler; these tracks are bound to be advanced party-freak-out generators!
With an unparalleled sense of fusing underground culture, technology, and soul, Reference was formed to deliver dance floor mayhem.