The Bunker presents Lee Curtiss, Ryan Elliott, Derek Plaslaiko, Klimek, Daniel Menche, Keith Fullerton Whitman, and DJ Olive. at Public Assembly
October 17, 2008
---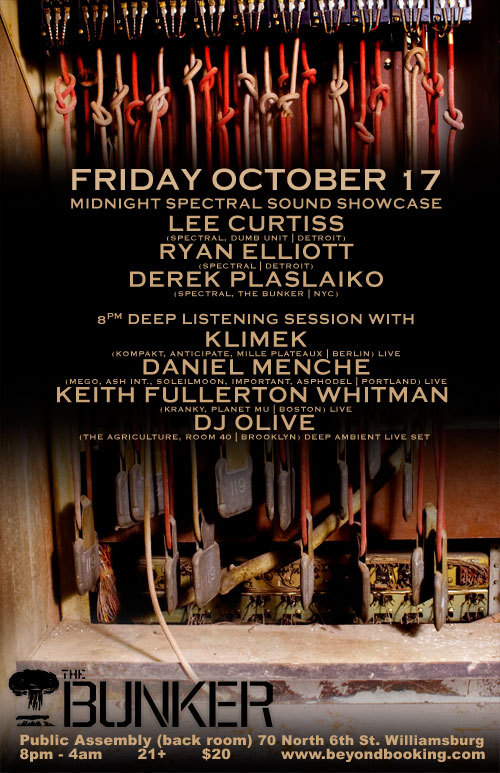 ---
$10
Tonight, we're going to try something a little different at The Bunker. Starting at 8pm, we present a Deep Listening Session with some of our favorite artists who are making music not intended for the dancefloor. Think drones, ambience, noise, and other uncatagorizable sounds. We were blown away by the size and enthusiasm of the crowd who came early to hear Vladislav Delay in March, and are taking it as a sign to make things a little weirder at The Bunker in the early hours of Friday nights. At around midnight, it will be a full-on dance party as usual, with the 1,2,3 punch of Curtiss, Elliott, and Plaslaiko providing our most exciting Spectral Residency lineup so far.
Lee Curtiss has been a Bunker favorite for a few years now. After many live appearances at The Bunker over the years, we finally decided to let him DJ back in July, and he completely annihilated the place. His music's dark, sexy, and uncompromising singularity have earned him coveted performance slots at the 2007 DEMF and Mutek festivals, and dates all over Europe at places like Fabric and Panorama Bar. He releases the first vinyl EP on the Wolf + Lamb label this month, and has a forthcoming EP on Spectral.
We've been trying to get Ryan Elliott back at The Bunker for some time now. The last time he played for us was at the not-so-vibey Luna Lounge in the spring of 2007. We think he will take full advantage of the opportunity to destroy the vastly improved (thank you new owners!) back room of Publc Assembly. Ryan had a huge year in 2006, playing DEMF and Sonar, and was named one of the 10 best DJs in the World by Resident Advisor. He has kept a busy touring schedule ever since, and produced re-edits for Matthew Dear, Kate Simko, and Osborne for Spectral.
What can we really say about Bunker resident Derek Plaslaiko that you don't already know? He pretty much blows up the party every single week, usually outshining the special guests. 2008 has been a huge year for Derek, with a successful 15 date Spectral Residency Tour of North America, a very well received Resident Advisor podcast, and appearances at DEMF, Igloofest in Montreal, and Daikanyama Unit in Tokyo. Just last week, he made an all Matthew Dear mix for Ghostly for the XLR8R podcast.
We are proud to present the NYC debut of Sebastian Meissner aka Klimek. He is a world reknowned artist who has released albums on Kompakt, Mille Plateaux, and Anticipate, and appeared at many big festivals, including DEMF, Mutek, Sonar, and Transmediale. In the words of our good friend and Anticipate label head Ezekiel Honig: "Klimek's music superbly conveys the convergence of terms like ambient, soundtrack and electro-acoustic, and his Dedications album (Anticipate, 2007) was highly praised by critics worldwide". Klimek's appearance made possible by generous support from our friends at The Gestalt Foundation.
While perhaps relatively unknown to those in the techno community, Daniel Menche is one of the most well respected modern day sound artists, and we're thrilled to have him perform tonight. Although Daniel is most well known in the noise community, his music isn't really all that noisey or chaotic, but rather precise and beautiful. Since the early 90s, he has released dozens of albums on labels like Mego, Ash International, and Soleilmoon. He has taken his captivating live show and toured the world very extensively. You never know exactly what to expect from him, but it's going to be really intense, and you will be paying full attention, trust us.
Keith Fullerton Whitman has recorded and released music under a number of pseudonyms, most notably Hrvatski. For the past 5 years or so, he has laid the Hrvatski project to rest and released many droney hypnotic albums under his own name on Kranky and other fine labels. Keith never really does the same performance twice, taking full advantage of different sonic environments to make something completely new each time he plays. We've known Keith for a very long time, but this will be his very first appearance at a Bunker event.
Last, but most certainly not least, is our old pal Gregor Asch aka DJ Olive The Audio Janitor. We could go on and on and on about his many accomplishments, but here's the short list: founded WE and played a huge role in the Brooklyn underground art party scene in the 90s, founded Phonomena Thursdays at subTonic (the party that introduced us to that magical space) in 1999, founded the Agriculture label with James Healy in 2003, showed work at the Venice and Whitney Biennials, and recorded and toured with a mind boggling list of notable experimental musicians. Tonight we are focusing on his audio sleeping pills project. He has released a trilogy of sleeping pill albums on Room40, "Buoy" in 2004, "Sleep" in 2006, and now "Triage" in 2008. Each album consists of one long, warm, deep ambient track. Come early, as Olive is starting the night at 8pm, and this will surely be a set you do not want to miss.