The Bunker presents a Communikey Festival Preview with Someone Else, Miskate, and Kalabrese at Galapagos
April 18, 2008
---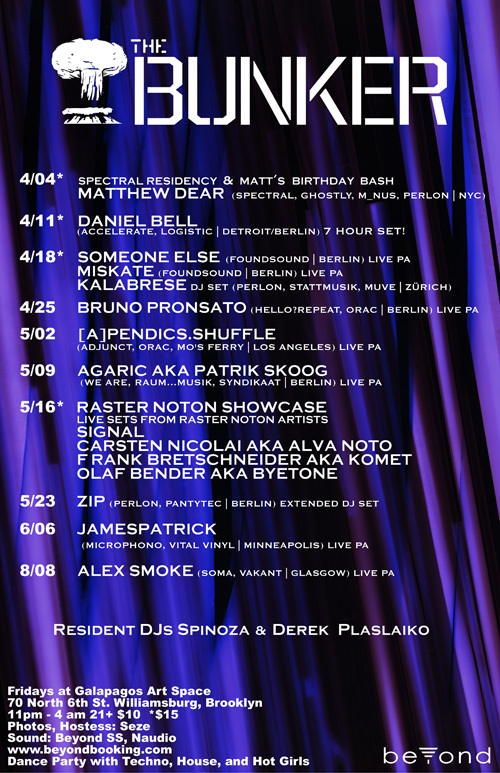 ---
$15
Our good friend Kate Lesta is throwing her first festival in Boulder this year, and we've booked a few of the headliners to join us at The Bunker before the head out west. The Communikey Festival of Electronic Arts is a three day event facilitating the exposure of global digital media to both local communities and traveling enthusiasts. Seven music performances held at a variety of Boulder venues will showcase digital creativity in the form of visual art and music by diverse artists from around the globe. Coupling art and panel discussion, the festival hosts a full day of forums and five audio-visual installations to present an enriched cross section of artists who reflect the current horizon of digital media arts. With an eye on global issues, this unique festival emphasizes sustainability in a technology based culture. Hosted in one of the nation's greenest communities, the Communikey Festival of Electronic Arts will create a space for dialog around technological and ecological responsibility.
Kalabrese is a DJ, producer, and club owner from Zurich. He released one of our favorite albums of 2007, Rumpelzirkus, which means "rumbling circus". While he has one foot planted in the minimal techno scene (thanks in no small part to his infamous single on Perlon in 2004), his recent work, while hard to categorize, is more in the deep house cosmic disco vein. What really sets Rumpelzirkus apart from any other electronic dance music albums we've heard lately is how deeply organic it is. Originally we had planned a live set with Kalabrese and his band, but funding from the Swiss government fell through and bringing the whole band over is just too expensive without it. So we will be presenting Kalabrese as a DJ. TO hear evidence of just how great he is behind the decks, check out his recent Resident Advisor Podcast.
Since 1994, Someone Else has been the force behind his ever-evolving, kitsch-driven electro-pop outfit, Flowchart, releasing dozens and dozens of albums, singles, eps and comp tracks on different labels from all over the world.
As his love for minimal techno solidified by 1998, Sean teamed up with Jay Haze and Bjoern Hartmann, and together they launched the Tuning Spork label. While making dance music with field recordings became more and more his shtick, Sean launched the Foundsound and Unfoundsound record labels together with Miskate and Fusiphorm. Over recent years, Sean's production skills have been garnering respect among internationally renowned djs and labels alike, as reflected by his massive discography of releases and remixes for labels like Musik Krause, Tuning Spork, Foundsound, Mo's Ferry, Microcosm, Nummer, Kickboxer, Sender, Alphahouse, Roman-Photo, Level Non-Zero, Mule Musiq, hello? repeat, Revolver and many others. This was accompanied by extensive world touring, and he was voted as one of the best live acts of 2006 in Groove magazine. Sean continues to spin and play live all around the world.
We've hosted Sean at many Beyond Events in the past including many Undercity dj sets, several live sets at the Bunker, and an appearance at 2006's New Years Eve party with Wolf + Lamb. It has been about a year since Someone Else has played in the states as he moved to Berlin last summer and has been busy touring Europe ever since.
Miskate is Kate Iwanowicz. Originally a Pittsburgh dj, she held down various residencies in that area. She received a degree in anthropology (and a minor in music) at University of Pittsburgh, where she also participated in a gamelan ensemble. Her interests in sound began at a young age: first playing violin, then piano, then guitar, now sample-based electronics (often incorporating her own singing voice among other found sounds). Her regular bookings playing deep, minimal house and techno encouraged her move to Philadelphia in summer 2001. After relocating, she had taken responsibilities as co-organizer of both the Pitchspork monthly (hosting names like Magda, Matthew Dear, Sammy Dee, Geoff White, Jeff Milligan and others) and the Foundsound record label. Her production debut came in may 2004 with the release of "rip it cookie muenster" (foundsound01). Since then, Miskate hammered out eps for Foundsound, Microcosm, Alphahouse, Roman-Photo, Karloff, Einmaleins and plenty more to come. She has been busy touring Europe for the past year, and hasn't visited the Bunker for quite sometime.