Unsound Festival New York at The Bunker with Atom™ & Pink Elln, Octave One, Petar Dundov, DJ Olive, Jurek Przezdziecki, Glitterbug, Pulshar, Tin Man, Samuli Kemppi, Christina Chatfield, and Kamil Jankowiak at Public Assembly
April 9, 2011
---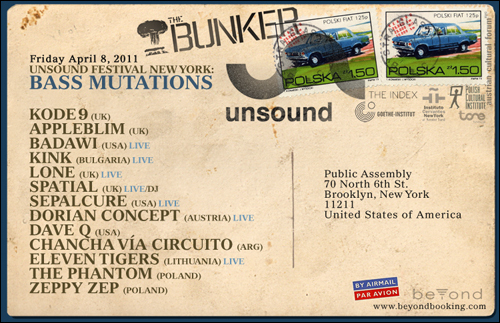 ---
$20
Unsound Festival New York returns April 6 to April 10th, with Beyond Booking presenting the Friday, Saturday, and Sunday night club events. The Bunker is one of the most respected electronic music events in North America. This special Unsound Edition of The Bunker will feature techno, house, and electronic music from ten groundbreaking artists from America, Bulgaria, Croatia, Finland, Germany, Poland, and Spain.
Atom™ is but one alias for the ever-inventive German electronic musician Uwe Schmidt, who has recorded under a dazzling array of aliases including Atom Heart, Lisa Carbon, Flanger, Flextone, and perhaps his most notorious moniker, Señor Coconut. It would take the rest of this page to list all of his aliases, and the same goes for his discography - it simply makes the word "prolific" seem insufficient. Schmidt first came to prominence in the early '90s with a series of acid house and Techno 12"s under many different aliases, but he soon went beyond club music and started to record ambient music for Pete Namlook's Fax imprint and every genre imaginable for his own Rather Interesting label. After a successful tenure in Germany, Schmidt planted new roots in Santiago, Chile, expanding his style and inspiring a whole new generation of producers, most notably Ricardo Villalobos and Luciano. In recent years his musical adventures have shown no sign of becoming less diverse, incorporating classical, glitch, Latin, lounge and experimental music elements. The fact is, one hardly ever knows what to expect from Schmidt - only that it will undoubtedly be music of exceptional quality.
Pink Elln is Tobias Fruend, also known as Tobias. and one half of both Sieg Über Die Sonne (with Dandy Jack) and NSI (with Max Loderbauer). Recently, he's gained a lot of attention with wildly popular dancefloor tracks and remixes on labels like Cadenza, Wagon Repair, and Ostgut Ton, but he's been producing his own brand of electronic music for over 20 years. With his current projects as Tobias., Non Standard Institute, and Odd Machine (an open collaboration with Ricardo Villalobos, Atom Heart, and others), Freund has redoubled his efforts to strip house and techno back to their most skeletal forms, all the while pushing at the limits of electronic sound design.
Atom™ and Pink Elln have been making music together for almost twenty years, performing their first concert in 1992, and releasing their debut record on Ongaku in 1993. After a long silence, they released a series of three records of live recordings from around the world on Logistic in 2006. Their performances are hardly defined or mapped out in advance, yet the music always seems to reflect the vibe of the entire situation: the audience, the PA, the general atmosphere. They base their musical performances on improvisation: a set of prepared sequences, samples and rhythms altered, recombined and morphed into an ongoing, unpredictable flow of deeply psychedelic sound that is indebted to classic acid house and aimed at the dancefloor. This is the very first time these two electronic music legends will perform together in North America.
Detroit-based producers and brothers, Lenny and Lawrence Burden, have been recording as Octave One since their debut in 1990 on the infamous 10 Records compilation Techno 2. Soon after, they launched their own imprint, 430 West, that still soldiers on today as their main creative outlet. This being only their second ever New York appearance, tonight's live show will surely be a special treat. Octave One will also be releasing a restrospective album, Here, There and Beyond, out soon on 430 West."
The Agriculture co-founder Gregor Asch aka DJ Olive The Audio Janitor will also be joining us as a last minute addition to the lineup. We could go on and on and on about his many accomplishments, but here's the short list: founded WE and played a huge role in the Brooklyn underground art party scene in the 90s, founded Phonomena Thursdays at subTonic (the party that introduced us to that magical space) in 1999, founded the Agriculture label with James Healy in 2003, showed work at the Venice and Whitney Biennials, and recorded and toured with a mind boggling list of notable experimental musicians. Olive will be opening the front room with a set of deep space ambient and downtempo beats.
Now Austria-based, Tin Man was born in Los Angeles to Finnish parents and now holds citizenship to both Finland and the USA. He first made his reputation via a series of classic house influenced, 909 driven releases for Keys of Life, a sub label of famous Finnish imprint Sähkö. His work started to take a darker, more cold wave influenced shape in 2008 with his mini album Wasteland for Global A Records. Last year, after a move from LA to Europe, Tin Man released his second album, Scared, on the Philidelphia based indie label White Denim. This album saw him reaching to a darker, more despondent zone, bringing his voice more to the forefront while allowing him to expand and explore his cold-wave influences in a new and unique way. This March, he will release another album, Perfume, on Salon Records, which promises an even deeper exploration of his currect direction. This is his debut New York live show.
Zagreb-based producer / DJ Petar Dundov has been making techno for best part of twenty years, having released music on Jeff Mills' Tomorrow label and countless productions on Music Man, as well as other releases under his most common pseudonym, Brother's Yard. The word "techno" doesn't properly define Dundov's sound, and he is keen to expand peoples perceptions of what they think they know of the genre. His 2009 releases on Music Man brought him global support from by everyone from Dubfire to Sasha to Ben Klock to Prins Thomas to Timo Maas. His most recent release Distant Shores came out in November 2010 and an album will follow this year.
Barcelona-based duo Pulshar is the project of two producers, Sergio "Aphro" Sainz and Pablo Bolivar, who are both known for their soulful blend of pop, dub and minimal house. They first made a splash in Europe with their 2008 debut album Brotherhood, and followed it up last October with their sophomore album Inside for Loco Dice's Desolat imprint. Their music is clearly influenced by Basic Channel and Rhythm & Sound, but also takes inspiration from other unusual sources including classic cinema and California pop. Tonight's live audio/visual set is their US debut appearance.
Helsinki-based producer/DJ Samuli Kemppi is one of the key figures in the Finnish techno scene. His influences range from Kraftwerk and Depeche Mode to Sähkö Records and Sleeparchive. He has been releasing singles on labels like Ostgut Ton, Prologue and Time To Express since 2002. His most recent release is the Cyclic Model EP for M_REC. Tonight he will be performing live.
Cologne-based Glitterbug has been called "Germany's best kept techno secret," yet that seems to changing. Producer Till Rohmann has been active since the late-80s through early illegal acid parties, and the famous 90s Cologne experimental techno scene. These experiences, coupled with his deep love for house music, as well as the sounds of Chicago and Detroit, led him to start his Glitterbug project. His well received debut album Supershelter, released in late 2008, pushed him to produce and even stronger sophomore album, Privilege. This evening he'll be performing a unique live audio / visual show with artist Ronni Shendar.
Warsaw-based producer Jurek Przezdziecki has been producing dance music since 1996. He's a prolific producer who has released music on a wide variety of labels including Synewave, Affin, Definition, Boshke Beats, Doppelganger, Recognition, Model, Living, Trapez and Cocoon, yet he remains largely unknown Stateside. Tonight is his US debut performance.
San Francisco based Christina Chatfield is a techno and house producer whose live shows have been garnering attention on the West Coast. Known for her meticulous sound design and lush arrangements, her productions and shows stand out due to their uniquely full composition. Working under her own name and the pseudonym Anitserk, she has released music on Detroit label Beretta Grey, Klectik Records and Racecar Productions. This is her New York debut.
Kamil Jankowiak aka aciddog, is a DJ/producer who recently moved from Rzeszów, Poland to New York City. He is a lifelong music addict raised by a father who was a DJ in 80s communist Poland. He has been DJing more and more around the city, and will likely present his own material in some form of live set on this night.