The Bunker presents Akufen, Stephen Beaupré, Vincent Lemieux, alka_rex, Normal Ones, Smirk, Attentat, Naudio, Kate Lesta, Derek Plaslaiko, and Spinoza. at Public Assembly
August 7, 2009
---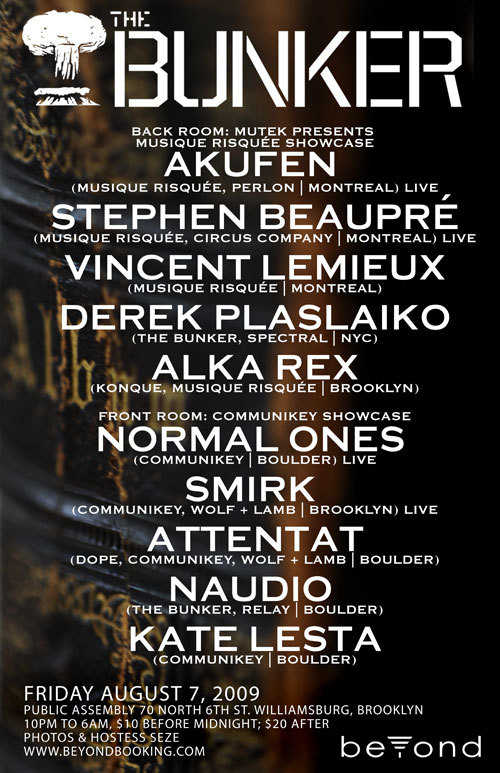 ---
$10-20
Mutek is an international festival of electronic music and digital creativity, that very successfully celebrated it's 10th anniversary this May in Montreal, Canada. To say that Mutek is innovative is a huge understatement. This organization has been presenting the most forward thinking electronic music festival in North America since it's inception. While showcasing well known artists such as Ricardo Villalobos, Atom Heart, Monolake, Pole, and Matthew Herbert, they also played a huge role in introducing and developing Canadian artists such as Akufen, Deadbeat, The Mole, Mathew Jonson, Pheek, and many more. The full list of artists who have participate in Mutek over the past 10 years is truly mindboggling, and can be found on their Myspace page. Mutek is a lot more than a music festival though, putting an incredible amount of care and attention into the visual presentation of the events, and providing panels and forums for attendees and participants to share ideas and meet like-minded people. Discovering Mutek was truly a lifechanging event for us, and we're always trying to convince more of Brooklyn to head up to Montreal to check it out. Tonight Mutek presents a showcase from the label at the core of their operation in Montreal, Musique Risquee.
Founded in 2003 by Marc Leclair (Akufen), Vincent Lemieux, Scott Monteith (Deadbeat) & Stephen Beaupré, Musique Risquée is a crunchy and burlesque alternative to classic house and techno. We met all four of the founders in 2005 when The Bunker did a Mini-Mutek party on both floors of Tonic. With their incredible taste in music, amazing sense of humor, and hunger for late night party antics, we quickly discovered that each of them was, as we like to say around The Bunker, "one of us". Since then, we've had many great parties in NYC featuring artists from the label. Every Risquée event we've ever thrown at the Bunker has been extremely memorable, and tonight should be no different.
Akufen is one of the most well-known micro-house producers in the world. His 2002 debut album "My Way" on Force Inc caused ripples in the electronic music waters that are still being felt today. Since then, he has remixed everyone from Richie Hawtin to Massive Attack. Akufen incorporates found sounds, random radio static, and other weird noises into his music, giving it an instantly recognizable sound that really stands out from other producers. In 2005, he released "Musique Pour 3 Femmes Enceintes" (Music for 3 Pregnant Women) on Mutek Records. This critically acclaimed album was aimed more at home listened environments, and really showed his range as a producer. Earlier this summer, Akufen released his first dance track in quite some time, a brilliant house remix of Guillaume and the Coutu Dumonts under his Horror Inc alias, which is hopefully a sign that more productions will be coming out soon. Tonight is the fith time we've brought Akufen to NYC, but it will be the first time he's played live for us, and in fact, the first time he's played live in the United States in over five years! He debuted his new live material at Mutek_10, and it left us speechless, proving once again that Marc is a true original musical voice in this world.
Stephen Beaupré first came to our attention as one half of the Crakhaus duo with Deadbeat. He has since established himself as a solo artist, and several tracks from his debut album in 2006 were frequently heard on The Bunker dancefloor. He really blew us away with his live set at The Bunker back in December, which you can download from The Bunker Podcast. His set on the last night of Mutek 2009 had the party going nuts, as he previewed some of the tracks from his forthcoming single on Wagon Repair, which will be making some waves when it comes out in late July.
Label founder Vincent Lemieux is one of our favorite DJs in the world. Dude has absolutely no concern about trends, and rocks the dancefloor every time with his unique taste in dance music, drawing heavily on his huge collection of classic records. His great taste has lead to DJ gigs around the world at Mutek events and repeat performances at European clubs such as Panorama Bar in Berlin for the Get Perlonized party. Listen to his set from the December on The Bunker Podcast for an example of his mind melting DJ capabilities.
We decided we couldn't do a Risquee showcase without our Russian techno brothers, alka_rex. While they've appeared at The Bunker many times, it's been far too long since we've had them play for us. These guys have gotten international praise for their cutting edge releases and live sets with insanely intricate sound design that constantly tests the limits of just how strange electronic music can get and still remain danceable. They hold down the weekly Less party, and are staples of the scene.
Communikey in Boulder, Colorado held its second edition of the CMKY Festival this past April, gaining momentum and international recognition for the unlikely Southwest location. Communikey brought the festival to life in 2008, after their events consistently drew an eager audience to hear forward thinking artists. CMKY grew from the grassroots electronic music scene in Colorado, but the groups' vision reaches beyond the dance floor. While pushing ideas and projects that look at sustainable approaches to technology based arts, the group states that its intention with the festival and its one off events is to "provide creative forums for the exploration of electronic music and new media arts in intimate environments, reflecting the global organism that is technology based fine-arts". For Communikey, this means nurturing local young artists as they begin their careers, collaboratively designing projects with the artists they work with, and connecting the small and flourishing community in the Southwest with the international digital arts industry. The 2010 Festival is booked for April 16-18. Tonight we welcome some of the key artists from the Communikey family for their first Bunker showcase.
Normal Ones is the brain-lovechild of Norm A. and Norma Lones, aka: Nathan Jantz and Jahnavi Stenflo. Nathan and Jahnavi have been spending the last two years putting together live immersive surround sound performances in experimental sound design and soundtrack realm as well as dub techno, dance and electro. Sonic spatialization, precise panning and placement of sound in the room is achieved through evolving custom software and hardware controllers, partially designed and developed by them. Normal Ones genuinely seek to push the envelope in their musical performance by and interacting with the audience.
Brandon Wolcott (aka Smirk) attended his first rave in the midst of the historical handover of Hong Kong back to chinese rule; It was 1997, the stakes were high, and three thousand people bounced up and down to a mesmerizing oom-chi oom-chi. He knew right then and there that Chinese people are not the best of dancers. It took him some while longer to realize that he was destined to make his own brand of Oom-chi. After DJing and promoting in Minneapolis during the late nineties, heavily influenced by Chicago house as well as the fledgeling minimal movement, he pegan production. One half of Blink e Palermo, his relationship with Wolf + Lamb jump started his output, with numerous releases on their label and an LP soon to be released on Archipel.
Thomas Kamholz (aka Attentat) has been DJing since the ripe age of seventeen. These days, Thomas finds himself as cofounder of the Denver based record label Dope Recordings, and as musical director for the illustrious Communikey crew. Over the years, as a member of Communikey, Thomas has found himself playing alongside such names as Jan Jelinek, Bruno Pronsato, Geoff White, Mossa and many others. Residing in Colorado since 1999, Thomas has established himself as a Rocky Mountain favorite, able to hold it down amongst the heavy hitters that pass through the state. We've seen Tom play many times, and he always bring it, so we're thrilled to welcome him back to the Bunker for his third gig with us.
Influenced primarily by Jameson's irish whisky, Naudio's productions have perked up the ears of drunk people across the globe. He derives most of his creativity from the immediate thoughts that come to him after strange alcohol induced dreams. Waking up with an idea and immediately working on it has led to many deep heady tracks. Mixing DJing with production has kept things fresh and interesting in his music. While tech and minimal are major parts of his sound, Naudio has also been known to infuse elements of funk and soul into his sets. His releases on Relay Recordings has received alot of play from both Bunker residents over the years. While we were extremely sad to see Chris move to Boulder last year, it's hard to argue with the fact that doing sound design for snowboarding videos during the week and riding the Rockies on the weekend is a better life for him. After a year out west, it's obvious he made the right choice, and we're psyched to have him back for one night.
Kate Lesta was raised in the theater by a creative entrepreneur from Manchester, England who relocated to Boulder, Colorado. A nontraditional education in private schools and later as a home-schooler, and living in Ibiza as a teen, gave Lesta the foundation to form her first artist's cooperative at age 16. Lesta has been producing electronic music and new media events ever since, facilitating over 100 events in the last 10 years, with Communikey being the 4th organization Lesta has founded, bringing acts from around the globe to Colorado. Lesta is driven by a passion for participatory systems, education reform, and creative environments as a vehicle for personal growth and community building. Kate's public DJ appearances are very rare, but tonight she will treat us to an opening set that is sure to perk up some ears and cover a lot of ground.